Which New Crypto Should You Invest In? [Video]
Looking for a new crypto to invest in? 
Are you ready to dive into the world of cryptocurrency but not sure where to start? 
Don't worry, we've got you covered! In this video we will help you in finding the best crypto opportunities.
First things first, let's get a quick rundown of what cryptocurrency is.
It's digital money that uses fancy computer code to keep everything safe and secure. It's also growing faster than a rocket-powered cheetah!
How To Invest In Cryptocurrency
Now, let's get down to the fun part: how to invest in cryptocurrency. The first step is to do your research! Check out the different cryptocurrencies and figure out which ones are most interesting to you.
Next, choose a cryptocurrency exchange to buy and sell your crypto. There are lots to choose from, so shop around until you find one that you like.
A few great starting points for decentralized tokens would be Uniswap, Pancake Swap, and Binance.us. In the centralized space, check out crypto.com and Uphold.
You'll also need a digital wallet to keep your cryptocurrency safe and secure. Think of it like a piggy bank, but with more zeros. The wallet is on your computer or phone and has many security features to make it safe.
Which New Crypto Should You Invest In?
Now, the million-dollar question: which new crypto should you invest in? Keep an eye on the latest news and developments in the crypto world, as they can be a great indicator of which cryptocurrencies are hot right now. 
Our top 5 picks for new coins to invest in are ACTS Token, Metropoly, Fight Out, Metacade, and Livepeer.
When you're considering which new crypto to invest in, think about the technology behind it and the team behind the scenes:
Is the team visible to the public? 

Do they seem like they know what they're doing? 

Is the token new or already established? 

Is it in a hot new industry full of "buzz"? 

How does it make money (aka utility)?
Endless Financial Possibilities
Investing in cryptocurrency is like crossing a bridge to a world of endless financial possibilities, where you're inspired to take bold steps towards a brighter future.
The journey will be filled with excitement, choices to make, and new opportunities, so it's important to stay the course, make wise choices and have an experienced and trusted advisor alongside you every step of the way. 
The ACTS Token team is committed to helping unlock greater financial opportunities in your life and helping you to build a stronger financial foundation for you and your loved ones.
Remember, always do your research and have fun!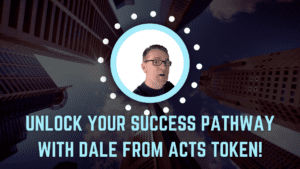 Financial Principles
Unlock the Power Within: Navigating Success with Dale's Three Pillars of Prosperity! Dive deep with us as we explore the influential mindset tweaks—good habits, active patience, and overcoming money fears—shared by Dale from ACTS Token, to not just enhance your wealth but also to embrace a life abundant in positivity and accomplishment.
Read More »
Subscribe to the ACTS Token YouTube Channel to be sure not to miss an episode