Trigger Warning Podcast - Episode 1 [Video]
Are you interested in exploring the world of cryptocurrency and wealth creation but don't know where to start?
Or are you a seasoned investor looking to stay up-to-date with the latest trends and insights in the crypto space?
We have great news for you! We've launched a new podcast series called "Trigger Warning", designed to help both beginner and savvy investors navigate the complex world of cryptocurrency. 
In this first episode of our podcast, hosted by Janine Van Wyk, and Acts Founders Sammy Chon and Gary Russell; the podcast's name, "Trigger Warning", is explained by Gary as a way to alert listeners to the possibility of being triggered by the truth, which may be different from their own beliefs.
Sammy discusses the reasons for investing in cryptocurrency, such as its maturity in technology and how it meets the needs of the marketplace.
We also talk about general wealth creation, fiat currency, and real wealth investments, and how we will be exploring these topics in future episodes.
This podcast is designed to be informative, educational, and thought-provoking, and listeners are warned that the topics may lead to rabbit trails or additional extras.
Overall, our goal is to empower you with the knowledge and tools you need to make informed investment decisions and succeed in the fast-paced world of crypto. 
Highlights of our podcast:
Expert insights: We share insights, strategies, and experience in the field of cryptocurrencies and wealth creation with our audience.
News and updates: We keep you up-to-date with the latest news and developments in the world of cryptocurrencies and blockchain technology.
Investment strategies: We provide valuable tips and advice on how to invest in cryptocurrencies and blockchain technologies, as well as how to manage risk and bridge the space between crypto and fiat currencies.
We invite you to share the podcast with your friends and fellow investors who might be interested in learning more about crypto.
Remember, at ACTS Token, we believe in Changing the World One ACT at a time. So, join us on this journey and let's create a better future for all.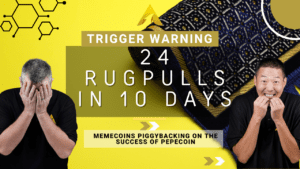 Podcast
The rise of cryptocurrencies has brought about a new wave of investment opportunities, but it has also paved the way for fraudulent schemes and market manipulation. One particular area of concern is the growing trend of meme coins, where investors are lured by the promise of quick profits and easy gains.
Read More »
Subscribe to the ACTS Token YouTube Channel to be sure not to miss an episode