Is Crypto A Scam?

Trigger Warning Podcast - Episode 8 [Video]
Is Crypto A Scam?
Key Takeaways From This Weeks Episode
Determination of value in currency

Understanding the essence of cryptocurrency as a ledger entry

Criticisms and misconceptions about Bitcoin and cryptocurrency

The importance of understanding blockchain technology

The viability of Bitcoin in the global landscape
Cryptocurrency has been a topic of discussion lately, with some people questioning its legitimacy and calling it a scam. One prominent figure, Jim Kramer, even made a statement about Bitcoin being a scam. This week we discuss whether it is indeed a scam or if it holds real value.
Is Cryptocurrency Real Money?
To determine if cryptocurrency, like Bitcoin, is real money, we need to understand the concept of value. Any currency, whether it's traditional cash or cryptocurrency, has value if it can be used to buy or sell goods and services. Just like physical cash, cryptocurrency holds value because it is a medium of exchange.
But what about the fact that cryptocurrency is digital and intangible? While you can't physically hold Bitcoin, for example, it exists as a ledger entry in your digital wallet. This entry represents the amount of cryptocurrency you own. So, even though it doesn't have a physical form, it still holds real value in the marketplace.
The Value of Cryptocurrency
Let's address the question of whether Bitcoin and other cryptocurrencies are scams. The answer is no. Cryptocurrencies like Bitcoin have value in the market right now. You can actually use Bitcoin to purchase goods and services.
Some businesses even accept Bitcoin as a form of payment. You can withdraw cash from Bitcoin ATMs, which further proves its real-world value.
It's important to note that the value of cryptocurrency can fluctuate more than traditional currencies.
Fluctuations don't make it a scam. It's simply a characteristic of the market. Just like any investment, the value of cryptocurrency can go up or down, but it doesn't diminish its overall legitimacy.
Comparing Cryptocurrency to Traditional Money
To gain a better understanding, let's compare cryptocurrency to traditional money, such as the US dollar.
While the US dollar is widely accepted and considered valuable, it's also subject to devaluation over time.
The worth of the US dollar depends on its ability to be used in transactions and its global acceptance.
Similarly, cryptocurrency derives its value from its usability and market demand.
Is crypto a scam? Cryptocurrency is not a scam. It is real money with value in the marketplace. While it may not have a physical form, its digital nature doesn't diminish its legitimacy. Just like any form of currency, its value is derived from its ability to be used in transactions. Bitcoin and other cryptocurrencies can be used to buy goods, services, and even exchanged for traditional money.
Understanding cryptocurrency requires educating ourselves about blockchain technology, ledger entries, and monitoring our wallets. As the technology advances, cryptocurrencies may become even more valuable and widely used globally. So, instead of focusing solely on the tangibility of money, we should appreciate the potential and advantages that cryptocurrencies offer.
Crypto is an exciting and evolving field, and it's crucial to stay informed and ask questions. Remember, cryptocurrency is real, has value, and can be used. So, next time someone asks, "Is crypto a scam?" you can confidently say, "No, it's real money with a place in the global landscape."
The information provided in this article is for educational purposes only and should not be considered financial or investment advice. Always do your own research and consult with a professional advisor before making any financial decisions.
By investing in ACTS Token, you have access to a dedicated team and curated resources to help you stay on the front edge of knowledge and opportunities for your financial future and success.
You can buy ACTS Token on pre-sale today.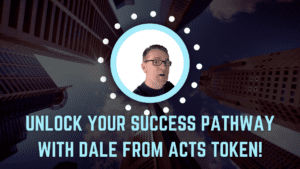 Financial Principles
Unlock the Power Within: Navigating Success with Dale's Three Pillars of Prosperity! Dive deep with us as we explore the influential mindset tweaks—good habits, active patience, and overcoming money fears—shared by Dale from ACTS Token, to not just enhance your wealth but also to embrace a life abundant in positivity and accomplishment.
Read More »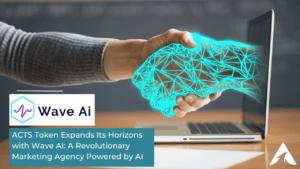 Tech
In the dynamic realm of digital marketing, staying competitive is a constant challenge. Enter ACTS Token, an innovative cryptocurrency that has now ventured into the future of marketing with Wave AI. This groundbreaking division redefines the marketing landscape, employing cutting-edge AI and optimized systems to meet all your sales and marketing requirements.
Read More »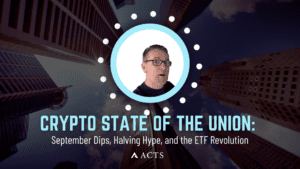 Financial Principles
In the world of cryptocurrency, September's historical dips can leave investors perplexed. But fear not, as this blog post reveals the psychology behind this phenomenon and strategies to make the most of it. Plus, with the Bitcoin halving just around the corner and major institutions like BlackRock and ARK Invest gearing up to launch crypto ETFs, the crypto landscape is on the brink of a seismic shift. Dive deeper into the world of crypto and learn how to navigate these trends with confidence.
Read More »
Supercharge your crypto journey and seize exclusive insider insights, expert analysis, and valuable tips by subscribing to the ACTS Token Newsletter today!