Is Investing In Crypto A Good Idea?
Is Investing In Crypto A Good Idea?
With its exponential growth and the ground swell of popularity, it's hard to ignore the buzz around digital currency and the blockchain. 
But as the hype continues to grow, many skeptics are left wondering, is crypto just a short-lived fad, or is it here for the long haul? 
In this article, we'll dive into the world of cryptocurrency and explore its past, present, and future to uncover whether it's a trend that's here to stay or just another passing craze.
Trends in the Cryptocurrency Market
The cryptocurrency market has experienced significant growth in recent years.
According to a report by Statista, the global market cap of cryptocurrencies reached $1.76 trillion as of March 2021. This represents a 800% increase from just two years ago when the market cap was around $200 billion.
The current global market cap is $1.18 trillion, according to Coin Market Cap. This is still a good jump but it's only a 490% increase. 
One of the main drivers of this growth has been the increased institutional adoption of cryptocurrency. Companies such as Tesla, Square, and MicroStrategy have invested billions of dollars in Bitcoin, and other cryptocurrencies, which has helped legitimize the asset class.
According to www.medium.com, 94% of Fortune 500 companies have investments in blockchain technology or are currently working on developing adoption plans for their corporation.
In addition to institutional adoption, the rise of decentralized finance (DeFi) has also contributed to the growth of the cryptocurrency market. DeFi is a new form of finance that is built on top of blockchain technology and allows for decentralized, trustless, and transparent financial transactions. According to DeFi Pulse, the total value locked (TVL) in DeFi applications has increased from $1 billion in June 2020 to over $40 billion in March 2021. As of February 16, 2023, the TVL in DeFi has climbed to $51.1 billion in total.
Despite some bumps in the road, the cryptocurrency market has shown remarkable growth and resilience. In fact, in November 2021, Bitcoin reached an all-time high of over $64,000, demonstrating the tremendous potential for profit in this exciting market. While it did experience a temporary dip, it is recovering well and remains a popular investment option for investors. Even with occasional volatility, the cryptocurrency market continues to offer promising opportunities for those who are willing to invest in this dynamic and rapidly evolving field.
Since the FTX collapse in December 2022, Bitcoin has proven a level of resiliency and has shown some solid trends, and seems to be building in line with market predictions for a significant rise to begin in 2024 and into 2025.
The trend of cryptomarkets tends to follow the shape of a hockey stick. The trends of lower prices and lower activity are often followed by a substantial increase in price and daily volume. With each trend it makes statistical sense that the "low points" would stretch out further followed by an even higher overall value increase.
Crypto in the Age of Digital Transformation: A Look at 2023's Impressive Numbers
The total market cap of all cryptocurrencies (Mar 2023) is $1.21 trillion; if it were a country it would be the 16th largest economy in the world. There are currently almost 23,000 cryptocurrencies traded on over 500 exchanges globally.

In terms of daily transactions, Ethereum continues to outperform Bitcoin. In Q4 of 2022, Ethereum had an average of 3.2 million daily transactions, while Bitcoin had an average of 700,000 daily transactions.

The global cryptocurrency market is expected to continue growing, with some estimates projecting it to reach $10.4 trillion by 2027, growing at a CAGR of 32.0%. Other moderate estimates place the market size at $2.5 trillion by 2027, growing at a CAGR of 13.5%.
Cryptocurrency Statistics By Country
Should You Invest in Crypto?
The future for cryptocurrency and blockchain technology is bright.
Crypto impacts so much of our daily life now and it will impact even more as the future unfolds. The internet (web3), the banking system, financial transactions, gaming, social media, ownership transactions like autos and homes – the whole world will have some part of it touched by the blockchain. At this point, it is not a matter of if, but when.
With $ACTS Token specifically, we think it's a good token to buy and hold long term. The team is strong, the roadmap is sound, the reflections pay you regularly just to hold the token and come along for the ride! 
There are multiple income streams being built in diverse industries to create a healthy foundation for success.
ACTS will help those most desperately in need with their Intentional ACTS of Kindness program.
ACTS has it all – a solid plan, a bright financial future and a heart for generosity.
The cryptocurrency market has experienced significant growth in recent years, driven by institutional adoption and the rise of decentralized finance.
Endless Financial Possibilities
The $ACTS Token team is committed to helping unlock greater financial opportunities in your life and helping you to build a stronger financial foundation for you and your loved ones. Consider investing in $ACTS Token today.
$ACTS Token – Changing the World One ACT At A Time!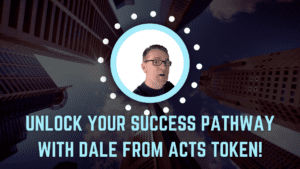 Financial Principles
Unlock the Power Within: Navigating Success with Dale's Three Pillars of Prosperity! Dive deep with us as we explore the influential mindset tweaks—good habits, active patience, and overcoming money fears—shared by Dale from ACTS Token, to not just enhance your wealth but also to embrace a life abundant in positivity and accomplishment.
Read More »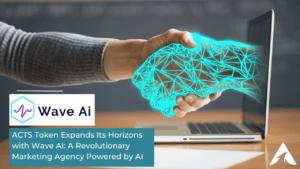 Tech
In the dynamic realm of digital marketing, staying competitive is a constant challenge. Enter ACTS Token, an innovative cryptocurrency that has now ventured into the future of marketing with Wave AI. This groundbreaking division redefines the marketing landscape, employing cutting-edge AI and optimized systems to meet all your sales and marketing requirements.
Read More »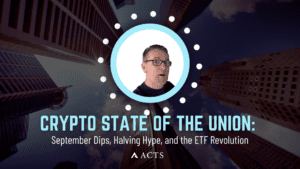 Financial Principles
In the world of cryptocurrency, September's historical dips can leave investors perplexed. But fear not, as this blog post reveals the psychology behind this phenomenon and strategies to make the most of it. Plus, with the Bitcoin halving just around the corner and major institutions like BlackRock and ARK Invest gearing up to launch crypto ETFs, the crypto landscape is on the brink of a seismic shift. Dive deeper into the world of crypto and learn how to navigate these trends with confidence.
Read More »