Exchange Launch Date Revealed 9/9/23

Trigger Warning Podcast - Episode 6 [Video]
Key Takeaways From The Trigger Warning Live Podcast Episode This Week:
On September 9th, 2023, the live exchange launch for ACTS Token will take place.
On Chain Launch: The team launched a chain launch in September 2022, and they are currently working on the smart contract upgrade and Acts 2.0 airdrop in preparation for the live exchange launch.
Smart Contract Upgrade: The team is ready to push the ACTS 2.0 Token, and the price increases and million-dollar targets are indicators of when the price increases are happening. The next price increase will be 0.000000060, and passive income reflections will be released when the $1 million target is reached.
Buy-Sell Exchange: The buy-sell exchange will help users to calculate their profits and losses. The seven-step price increase is to build stability and match buyers and sellers at an agreed-upon price level. Once all the tokens are sold at the target level, mark reflections will be distributed and paid out in a US dollar token.
Beta Game Release: The game development has been in process for a while, and beta testers are currently testing it to improve on it.
Crypto Scammers and Crypto Security: Users must follow best practices and security protocols when working with their finances. There are bots and people out there 24/7 trying to steal money, so users must beware of scammers and bots who want to intercept their transactions.
Roadmap to Live Exchange Launch
In this episode of the ACTS Token podcast, Trigger Warning, Co Founders Gary and Sammy are very excited to share the roadmap to the live exchange Launch.
The launch date is, September 9th, 2023.
ACTS Token did a chain launch in September 2022.
We are ready to push you the ACTS 2.0 Token.
Some common questions we receive:
Q: When can I start to see some profit on my tokens?
A: The price increases and the million-dollar targets are indicators of when the price increases are happening.
The Team has been working and double-checking everything. And again, we want to make sure we have some good testing happening in every phase.
The next price increase is going to be 0.000000060.
Q: When will I start to receive passive income reflections:
A: On the graphic, when you see the target, a $1 million price increase is when that $1 million target comes when there will be passive income reflections released.
Q: Why the seven-step price increase?
A: The main thing is to build stability and be able to match up buyers and sellers. It's more like a traditional stock market where buyers put in the buy request. Then sellers will match up together, but it will be at the agreed-upon price for that level. Once all the token available is sold at that target mark, reflections will be distributed and they will be paid out in a US dollar token.
There will also be step-by-step training videos on how to connect your Metamask wallet to the buy-sell exchange.
The target is a 10X price from the September 30th Chain Launch.
The buy-sell exchange will help you have a better idea of how to do your calculations.
For example, you may consider selling a few of your tokens. You can calculate if you sell just 10% of what you are holding, and you can calculate how much you will lose by selling at a particular time.
If you see that six more price increases are coming, then maybe it would be better to hold on if I can. But if you can't, then you put a sell order in and you calculate what you know, you will be able to get out from it.
Each one of the things we have on the timeline is from us observing successful launches. Coins that have risen, people who have made money, watch what they did, said, how did they do that?
With the ACTS token, we have a timeline in front of it, so none of it is guessing.
Our game development has been in process for a while. We have some real beta testers currently testing it. It is going to be amazing!
Media Blitz Package, Influencers, & VIP Real Estate Event
In order to reach the targets we are doing two media blitzes as well as a coordinated influencer campaign. There will also be a VIP Real Estate Event coming up. As well as  Acts of Kindness  service opportunities.
Rest assured when we're doing our release to a proven formula.
We will have additional things coming, up until our NFT Launch Party as we hit each one of these milestones.
The live 24/7 exchange, September 9th, 2023, is a date that we've all been waiting for!
Crypto Scammers and Crypto Security
Always follow wisdom, best practices, and security protocol when working with your finances.
There are bots and people of the world out there 24/7, who want to steal your money.
As Mark Cuban says, you need to work in your business as if there's somebody who's been put on this planet and their job is to steal your business from you.
Some bots keep plaguing us, for what we're doing.
When you are moving crypto when you are moving money, when you are moving anything. Beware of scammers and bots who want to intercept what you're doing and they want to get their line of code in and they want to get your stuff sent there.
There are no redos or undos in crypto. If you send your crypto to the wrong place, it's in the wrong place. If you lose your keys, your crypto's gone. If you lose your keys your crypto is gone.
So as we're going through this roadmap, there will be no 'secret special handshakes' coming.
ACTS Token will never say, something like "give us Bitcoin".
There will be no private Zoom meetings going on.
Don't send your keys out, don't click on other people's links.
Make sure you're talking to a human being from the Team, before you do anything.
Always be safe. A good practice is to send a small amount just to check. There are a  lot of ways to protect yourself. You do not need to be fearful.
We just need to continuously be, smart and wise with what's going on.
We're real people. There's always a direct line of communication between us.
Affiliate Program For Investors
If ACTS Token investors are interested in the Affiliate Program and what we got going on with the sales team, just reach out to hello@actstoken.com and we'll tell you how to get involved
It's an incredible opportunity if anybody is interested in that.
What makes ACTS Token Stand Out?
What makes ACTS different?
Why should people invest in ACTS?
Why should they invest now?
Gary's simple answer is this:
"The heart behind Acts Token, like our Acts of Kindness, is to provide for widows and orphans, and survivors of abuse. To help fight for those who can't fight for themselves, and then to equip and empower them.
When we started ACTS Token, it was a given that if we could take helping people properly, we could take proper education and training and all the stuff we've had success with in the real world, in the Web 3.0 world and what if we could bring that to people in a way that was more affordable than my previous business model?
So we started with something that already existed, real-world value, and ACTS came along to make it more accessible and affordable.
For example, if you're nonprofit-minded, we could teach you how to run your nonprofit business like a business. So it supports itself and makes money, and you don't ask for money from other people. There's a tremendous amount of power in that. So ACTS Token is a movement. It's a vision.
We want to help the marketplace. The people behind it are real. And I'm going to say unfortunately that's probably really hard to find. And what you're going to find more of in the world are the scammers who are going to come on your live feed and try to send people to a Zoom and a Bitcoin and steal from you.
And then we get people who are just trying to infiltrate and trick our folk into other stuff. I think, I think access here ultimately for that reason, to help prevent that. I guarantee you somebody saw that whole scammer thing go down and it's going to save them real money past the 9th of September.
I would say the heart behind it. Now, some of the other stuff we're going to do too for our investors, we're real-world business people. We're going to do billboards, we're going to do liquidity pools, there's going to be some mining opportunities.
There are going to be opportunities that the regular person on this planet would never, ever find out about or hear about. So get in the ACTS community, hang out with us, hang out in our community, go through some of the training, and start to level out as a person. Your eyes are going to widen and you're going to go, Hey, what else are you guys doing?
We're talking about buying, building ground up, and then and then having the revenue from it. We, we have a source for that liquidity pool. There will be staking opportunities. Not the type of staking opportunities where you have to go and recruit people.
As part of the ACTS Token community, you will always know exactly what is going on. Everything will always be visible and communicated to you.
ACTS is so much more than just a crypto. There is so much more than just a token. There is so much more than just an NFT.
There are so many reasons to join ACTS Token, the main one I would say is to align with the heart behind it because we are going to do some great things."
There is no time like the present to invest in ACTS Token before the price does increase and for those that have invested – thank you for trusting us.
Thank You For Investing In ACTS Token
Thank you for investing in ACTS Token. I hope that you are excited with us and that you also see, you know, I want to hold onto the tokens that I have already bought because look where it's going. The future possibilities are endless.
We've tried to create the foundation and make it a solid foundation so that we can go far and, when we do take off, we are going be unstoppable.
We're spending thousands and thousands and thousands of dollars to make sure that we continuously have a steady and stable launch after that into the live exchanges. So we're pretty excited about everything that's happening.
So, If you do have any questions or you are interested in joining ACTS token, you are welcome to email us at hello@actstoken.com or visit our website actstoken.com.
By investing in $ACTS Token, you have access to a dedicated team and curated resources to help you stay on the front edge of knowledge and opportunities for your financial future and success.
You can buy $ACTS Token on -pre-sale today.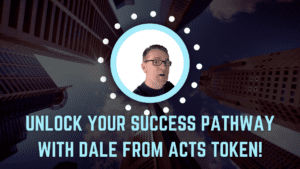 Financial Principles
Unlock the Power Within: Navigating Success with Dale's Three Pillars of Prosperity! Dive deep with us as we explore the influential mindset tweaks—good habits, active patience, and overcoming money fears—shared by Dale from ACTS Token, to not just enhance your wealth but also to embrace a life abundant in positivity and accomplishment.
Read More »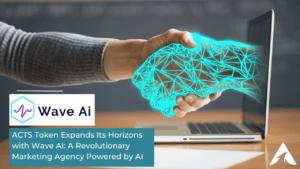 Tech
In the dynamic realm of digital marketing, staying competitive is a constant challenge. Enter ACTS Token, an innovative cryptocurrency that has now ventured into the future of marketing with Wave AI. This groundbreaking division redefines the marketing landscape, employing cutting-edge AI and optimized systems to meet all your sales and marketing requirements.
Read More »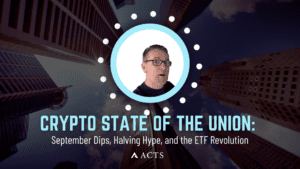 Financial Principles
In the world of cryptocurrency, September's historical dips can leave investors perplexed. But fear not, as this blog post reveals the psychology behind this phenomenon and strategies to make the most of it. Plus, with the Bitcoin halving just around the corner and major institutions like BlackRock and ARK Invest gearing up to launch crypto ETFs, the crypto landscape is on the brink of a seismic shift. Dive deeper into the world of crypto and learn how to navigate these trends with confidence.
Read More »